MONO莫诺螺杆泵

Widethroat(宽喉道)W 泵系列产品
MONO莫诺螺杆泵 Widethroat(宽喉道)W 泵系列产品设计用于输送高粘度的物料,
例如粘度高于 1,000,000cP 的淤泥、淤浆、无流动性稠糊浆和脱水污泥块。
这款螺杆泵标准设计包括一个扩大的矩形入口,配有一个螺旋输送器协助产品进入泵芯。
可有不同选项用于修改入口以适合任何大口径的螺旋推运器、一体化防堵器或两者同时进行。

容量

压力

温度

立方米 / 小时

可达 215

bar

可达 48

°C

-10 到 100

加仑 / 分钟

可达 946

psi

可达 700

°F

14 到 212
点击快速查看以下内容
MONO莫诺螺杆泵

Widethroat(宽喉道)W 泵系列产品

特性与优点
MONO莫诺螺杆泵

Widethroat(宽喉道)W 泵系列产品 性能
MONO莫诺螺杆泵

Widethroat(宽喉道)W 泵系列产品

应用
MONO莫诺螺杆泵

Widethroat(宽喉道)W 泵系列产品 尺寸
---
MONO莫诺螺杆泵

Widethroat(宽喉道)W 泵系列产品
应用
| | |
| --- | --- |
| 淤泥 | 淤浆 |
| 无流动性稠糊浆 | 脱水污泥块 |
| 肉馅 | 膨润土泥浆 |
| 制药滤饼 | 鸡内脏 |
| 马铃薯废泥浆 | 高粘度的物料 |
---
MONO莫诺螺杆泵

Widethroat(宽喉道)W 泵系列产品

特性与优点
提供一种工艺上有效的方法,输送有高固体含量的淤浆

不同的设计配置以适

合具体应用

,在安装了一体化的防堵器或者大的螺旋推运器时,接近

40%

干燥固体的也可以输送

由于设计简单

以及在轴上使用塞子方便维

修

设计在相对低的速度运行最

大程度减少对剪切敏

感产品的损坏

可用泵有

monobloc

或

bareshaft

可提供一台

Muncher

研磨机

,水平安装到料斗前以减少在输送前的固体物

可提供符合

ATEX

指令

94/9/EC

的泵
The design of the W range is such that many different applications can be handled. The standard design consists of an enlarged
rectangular inlet with a screw conveyor to assist the product into the pumping element. Options exist that can modify the inlet with
either large diameter augers, integral bridge breakers or both.
Pumps are available in most cases as Monobloc® (close coupled) or as a bareshaft pump.
Dry solids approaching 40% can be handled by the pumps when fitted with either the integral bridge breakers or large augers.
The pump has been designed to facilitate maintenance through its simple design and the use of a plug in shaft facility.
The pumps are available in a range of materials to ensure a wide variety of products can be handled. Shaft sealing is a hard faced,
single mechanical seal, with packed gland available as an option.
---
The Widethroat r
ange has been designed to handle highly viscous materials such as sludges, slurries, thick non-flowing pastes
and de-watered sludge cake with viscosities up to 1,000,000 cP.
The range is based on single, two, four, six and eight stage pumps which can develop pressures up to 48 bar and capacities up
For the many difficult and varied applications encountered, the pumps are run at a relatively slow speed, therefore the pump will
handle shear sensitive products with minimal product damage, abrasive solids in suspension and highly viscous materials


点击快速返回顶层
---
MONO莫诺螺杆泵

Widethroat(宽喉道)W 泵系列产品 性能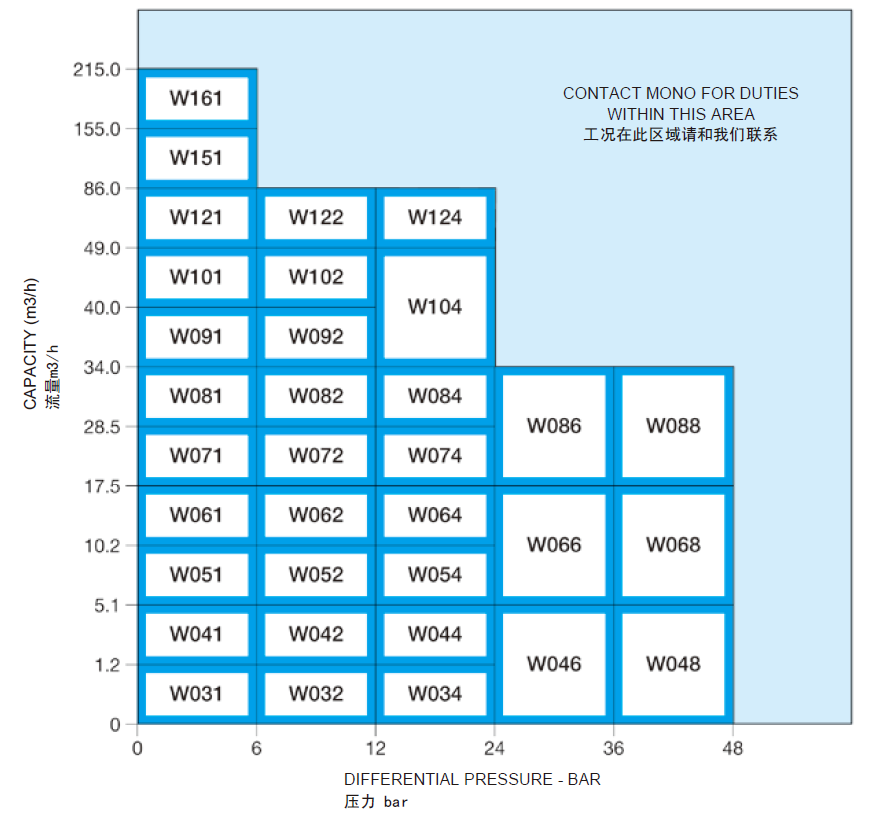 NOTES:
1. The tabulated performance data shown is based upon handling clean water at 20oC.
2. For guidance in selection of a pump for use with other fluids of varying abrasion and viscosity refer to Mono Pumps Ltd.,
Audenshaw, Manchester.
点击快速返回顶层
---
MONO莫诺螺杆泵

Widethroat(宽喉道)W 泵系列产品
应用

A W064 model installed at a sewage treatment works to control sewage
odours, caused by a belt press feeding dewatered sludge cake directly
onto an open-air conveyor and into an open skip for disposal. The cast
iron W064, with an integral bridge breaker fitted as an option, delivers
the sludge cake at the required rate of 2.5m3/h and pressures of up to 12
bar. It operates eight hours per day, six days a week and daily fills up the
four enclosed skips with sludge cake.
---

Problems arose at a water treatment works with the discharge of sludge
cake by chute into a mobile skip for disposal on landfill sites. As the
sludge is a relatively immobile solid, the only way to load the skip evenly
was by manually raking it out. The installation of a W054 pump loads the
kip via a 15 metre long, 150mm diameter flexible hose, and the nonpulsating
nature of the pump provides an even output of 1.5m3/h. As the
pump operates at a pressure of 1 bar, it compresses the
cake still further. Significant cost savings are achieved as a result - the
skip now holds 6 tonnes rather than 4.5.
---

A custom-built W082 is speeding up waste disposal at a Scottish
tannery. Previously the 'fleshings' were shovelled manually from the
processing area to a skip, this method was highly labour intensive. The
cast iron W range pump with large auger and hopper were specially
modified in order to handle this difficult material. The fleshings waste is
gravity fed into the hopper, then pumped at 5.5m3/h at a pressure of 3
bar, along 30m of pipe direct to an outside skip for disposal.
---

A total of 9 stainless steel W range pumps have been installed at a plant
in Greenwich to handle highly viscous materials and transfer it along
several hundred metres of pipework. Operating at speeds of between
123rpm and 196rpm, delivering gluten at a capacity of 4.5m3/h to
40.5m3/h and pressures of 3 to 8 bar. Extreme reliability was specified
by the customer, as the pumps have to operate 24 hours a day, seven
days a week with minimum downtime for repairs.
---

A customer, producing mechanically deboned meats, which are frozen
before export to food manufacturers worldwide, has installed a stainless
steel W062 pump. The meat puree is gravity fed into the inlet hopper for
transfer to the freezer plates. The efficiency of the freezing system relies
on a constant flow rate of 5 tonnes per hour, to prevent the plates standing
idle or a delay further up the line.
---

This site's sludge dewatering unit, installed at a large sewage treatment
works, is a belt thickening system, comprising 3 x 3m wide belt of 0.7mm
mesh, located above a collection sump. As the dewatered sludge
reaches the end of the belt it is deposited into the inlet hopper of the
W072 pump and transferred to holding tanks at 14m3/h. Ideal for thick
non-flowing sludges and slurries the W range incorporates an auger
system which help to feed the sludge to the pumping element without

A leading designer and manufacturer of machinery for producing
savoury pies, pasties and sausage rolls is incorporating stainless steel
W032 pumps into its sausage roll manufacturing machines. Transferring
prepared sausage meat in a continuous uniform length to the pastry
casing at a capacity of between 5-10m3/h, the W range features an
auger feeding system to ensure the sausage meat is consistently fed
from the extended hopper inlet to the pumping element.
点击快速返回顶层
---
MONO莫诺螺杆泵

Widethroat(宽喉道)W 泵系列产品 尺寸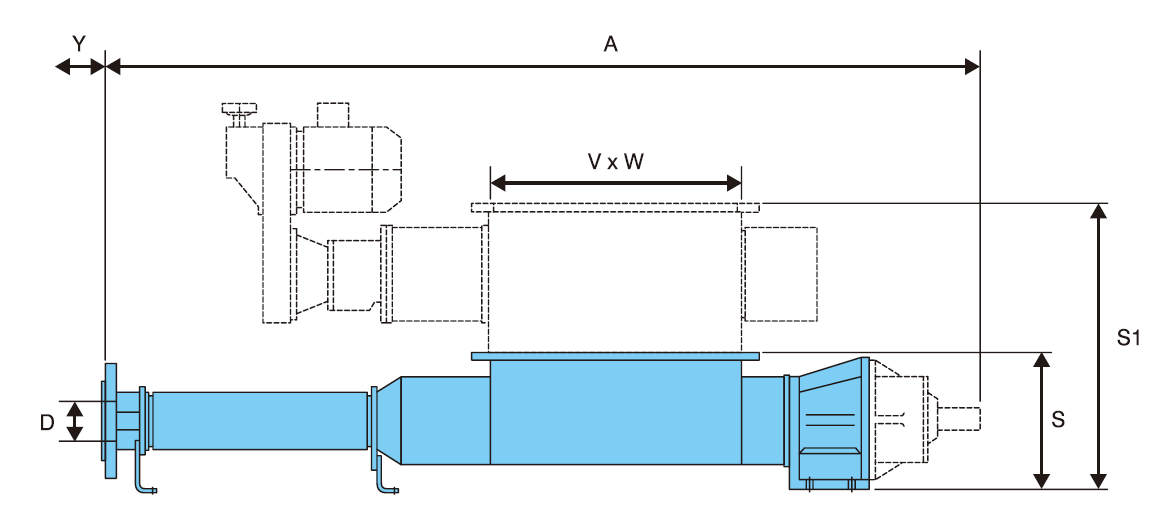 MODEL STANDARD + BRIDGE BREAKER STD LARGE AUGER ALLMODELS
Y A V x W S S1 Y A V x W S D
W032 720 1156 320 x 170 185 *
W034 750 1638 320 x 170 212 50
W041 835 1324 350 x 250 232 65
W042 835 1523 350 x 250 232 412 770 1842 750 x 250 282 65
W044 890 1987 350 x 250 245 425 880 2293 750 x 250 295 80
W051 1045 1594 500 x 250 247 80
W052 1050 1859 500 x 250 260 435 770 2010 750 x 250 310 80
W054 1100 2500 500 x 250 285 460 765 2657 750 x 250 335 100
W061 1265 1845 650 x 360 285 100
W062 1270 2249 650 x 360 310 515 1030 2484 1000 x 360 375 100
W064 1330 2964 650 x 360 320 525 1035 3212 1000 x 360 395 125
W071 1300 2034 650 x 360 330 125
W072 1300 2402 650 x 360 330 525 1025 2675 1000 x 360 415 125
W074 1410 3395 650 x 360 405 600 1035 3665 1000 x 360 465 125
W081 1300 2078 650 x 360 330 125
W082 1370 2581 650 x 360 340 550 1040 2865 1000 x 360 505 125
W084 1440 3590 650 x 360 405 615 1030 3847 1000 x 360 505 150
W091 1550 2407 800 x 450 360 150
W092 1550 2869 800 x 450 360 575 1045 3053 1000 x 450 505 150
W101 1550 2485 800 x 450 360 150
W102 1625 3153 800 x 450 405 655 1042 3410 1000 x 450 550 150
W121 1600 2784 800 x 450 450 200
NOTES
---
MONO莫诺螺杆泵
Widethroat(宽喉道)W 泵系列产品 相关咨询欢迎您的来电